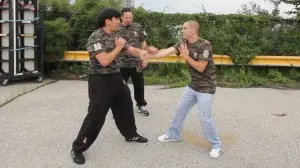 In this episode, we talk to John Simons, touch upon a bit of Metal, Mixed Martial Arts (MMA), Mayhem, and much more.
Welcome to Episode Sixty of Hiyaa!! THE Martial Arts Podcast – The Penta-Dactyl Mortal Blow Show!
Meet John Simons and learn about protecting rock stars (from themselves and others :P) and his work in MMA, BJJ, Wing Chun, Army combatives, and a lil "Bruce-bashing."
So grab your suitcase, folks… We're going on whiiiirl-tour!
Subscribe: Apple Podcasts | Google Podcasts | Android | Email | RSS
Featured Guest
John Simons
Show Notes
Links to more information about some of the things we mention during the show. BTW…Blue = Video! 🙂
In the Opening
New Years Resolution Preemptive Retraction/Correction
John Simons
Hiyaa's three year anniversary is coming in March
In the Interview
People
Topics & Things
Listener Content: The Martial Brain…What if Tokyo never rose
Jeff Westfall (Bio. page at his Rising Phoenix Martial Arts Academy)
In the Closing
Thanks to all the listeners for another great year! 🙂
Email us
Follow us, like us, love us…
And as usual…Hit us up, Rate and Review, Like us and Love us, Communicate with us!