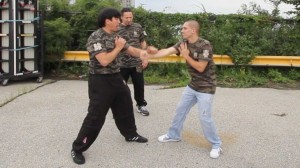 Metal, MMA, Mayhem, and more.
Welcome to Episode Sixty of Hiyaa!! THE Martial Arts Podcast – The Penta-Dactyl Mortal Blow Show
Meet John Simons and learn about protecting rock stars (from themselves and others) and his work in MMA, BJJ, Wing Chun, Army combatives, and Bruce bashing.
So grab your suitcase, we're going on tour!
Subscribe: Apple Podcasts | Android | Google Podcasts | RSS
Featured Guest
John Simons
Show Notes
Links to more information about some of the things we mention during the show. BTW…Blue = Video! 🙂
In the Opening
New Years Resolution Preemptive Retraction/Correction
John Simons
Hiyaa's three year anniversary is coming in March
In the Discussion/Interview
People
John Simons
Tai Kai
Anderson Silva
Topics & Things
Picking an art/school/instructor
Body size and martial arts
Listener Content: The Martial Brain…What if Tokyo never rose
In the Closing
Thanks to all the listeners for another great year
email us
Follow us, like us, +1 us…
And as usual…Hit us up, Rate and Review, Like us and Love us, Communicate with us!