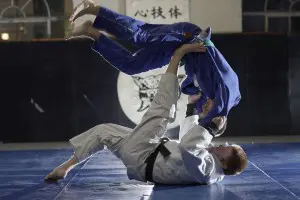 In this episode, we talk with return guest, Stephen Koepfer, about an aspect found in many martial art styles: Throws & Throwing. Different ways to think about them, their usage and more. Covering throwing from Trips to Flips, we also hit up on some news, and other tidbits.
Welcome to Episode Fifty Five of Hiyaa!! THE Martial Arts Podcast – The "Down You Go!" Show.
Sit in with Dave, Craig, and the wise and magnificent Stephen Koepfer for a stroll through the land of the upsie-dasies?
Great, the Captain Kirk Sacrifice will not have been in vain! 🙂
Subscribe: Apple Podcasts | Google Podcasts | Android | Email | RSS
Featured Guest
Steven Koepfer
Show Notes
Links to more information about some of the things we mention during the show. BTW…Blue = Video! 🙂
In the Opening
People
Topics & Things
In the Discussion
People
Topics & Things
Leg to leg throws
Hand to leg throws
Body to body throws
Loading (Sambo)
Ippon
Foot sweeps are the jabs of throws
Jacket on / Jacket off (Karate Kid movie clip)
Sweeps are pretty much throws
Kami Basami (to leg lock / scissor-hold)
Adjusting throws for the street
Importance of experiential wisdom
Pancake / Lateral drop (Wrestling)
Swallow palm (Baguazhang)
Good throws should be effortless
Throws for demonstrations
In the Closing
Dave and Craig catch up
Email us
Follow us & like us
And as usual…Hit us up, Rate and Review, Like us and Love us, Communicate with us!